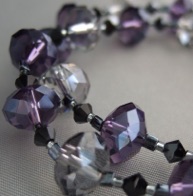 expressions of you jewelry & accessories love to be worn!
Your treasures will have a long and happy life when you apply any perfume, hairspray, or body lotion before wearing them.         
Both .925 sterling silver and 14K gold filled earring wires are used.  Over time, sterling silver may develop a tarnish. For best results, tarnish can be removed by gently wiping your sterling silver using a silver polishing cloth. Gold will not tarnish.
To protect your expressions of you jewelry, it's best to never immerse into any cleaning solution or water.